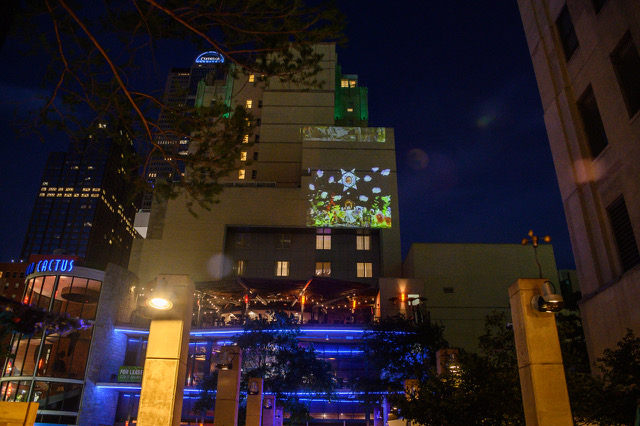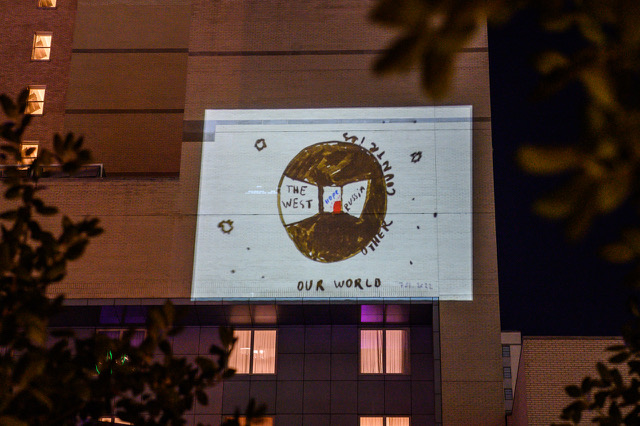 22 April, 2022 screening at Pegasus Plaza, 1500 Main St. Dallas TX. Photos: Can Turkyilmaz
Vich-na-Vich
04-22-2022
Vich-na-Vich [lit.: eye to eye, or face to face] features Ukrainian artists working in video, animation and drawing. This program offers an intimate portrayal of Ukraine and considers the ways that artists address and record experiences of invasion and war. Honoring the resilience and persistence of artists working in this critical and transformative moment, Vich-na-Vich examines the immediate impact as well as the humanist backstage of the war. Presented in partnership with Aurora's Video Art Nights, the Dallas screening featured Dana Kavelina's animated video Mark Tulip Who Spoke with Flowers (2017) and drawings by Alevtina Kakhidze that document the day-to-day impact of Russia's war in Ukraine.

Vich-na-Vich is organized by Lilia Kudelia and Janeil Engelstad with support from the

Make Art with Purpose

Sylvia Hougland Art Fund.

Alevtina Kakhidze. War Diaries, 2022
Born in 1973 in Zhdanovka and growing up in the coal-mining region of Donetsk,

Alevtina Kakhidze

has experienced Ukraine's abrupt and chaotic shifts from the days of being part of the USSR, to the imbalanced post-Soviet environment, including Russia's undeclared war in Ukraine that has been taking place since 2014. Kakhidze attended the National Academy of Fine Art and Architecture in Kyiv (1999-2004) and the Jan van Eyck Academy in the Netherlands (2004-2006). Her awards include United Nations Tolerance Envoy in Ukraine (since 2018), Kazimir Malevich Artist Award (2008), and First Prize, Competition for Young Curators and Artists, Kyiv, Center for Contemporary Art at NaUKMA (2002). This program presented drawings from Kakhidze's war time diary that poignantly reflect on a new chapter of the Russia-Ukraine war. Dated from February 24, 2022 until now, these images are drawn in the artist's home in the village of Muzychi, 16 miles away from the Ukrainian capital, Kyiv

Dana Kavelina. Stil from Mark L. Tulip who Spoke with Flowers, 2017


Born in 1995 in Melitopol, Ukraine,

Dana Kavelina

's work portrays military violence and war seen from the perspective of gender, the position of victim as a political subject, and the spaces between historical and individual trauma and memory and misrepresentation. She has exhibited at Kristianstad Kunsthalle (Sweden), Kmytiv Museum, Closer Art Center, and Voloshyn Gallery in Ukraine, and screened by e-flux (War and Cinema, 2022) and MoMA (Notes from the Ground, 2022). Her animated film Mark Tulip Who Spoke with Flowers traces the disruption of Ukraine through the poetic story of Mark Tulip, a man who intends to live harmoniously on his native land but has to escape his garden, abandon the beloved dog and cat, and witness his family splitting into smithereens when the war comes to Luhansk in 2014.


Dana Kavelina. Stil from Mark L. Tulip who Spoke with Flowers, 2017